Welsh Castles are far away from Dubai!
From Dubai to North Wales, Conwy in fact, was the next stop on our 2015 jaunt  to say close to one of the most spectacular of the Welsh Castles. It sure is an architectural shift.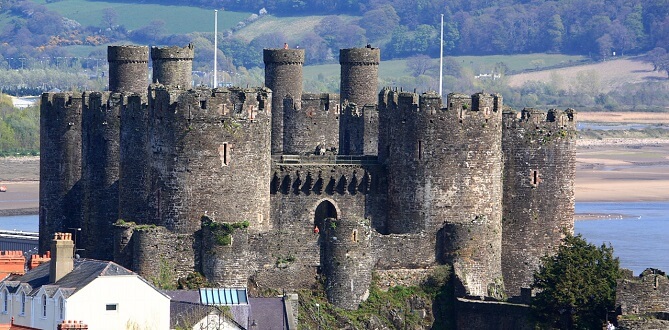 Castell Conwy (Conway Castle in English) was built in the 13th century by Edward I. It was constructed as part of a larger project to create a walled town in Conwy.  It and the defences of Conwy cost the gigantic sum of 15,000 pounds.
UNESCO considers Conwy to be one of "the finest examples of late 13th century and early 14th century military architecture in Europe" and it is classed as a World Heritage site.
It is also fascinating that it is one of the earliest stone machicolations in Britain.  Machicolation is a floor opening between the supporting corbels of a battlement.  Through these openings the castle inmates could adopt the charming practice of dropping stones and other objects onto attackers. Machicolation were more common in French castles than English ones – remember the French soldiers in Monty Python's Holy Grail.
Architecture in Wales is not only about Welsh Castles
The Visit Wales site points out that there are many contemporary buildings adding "a sleek, stylish, eco-efficient edge" to parks, cities and heritage attractions. Buildings it singles out for mention include the Aberystwyth Arts Centre, Caerphilli Castle Visitor Centre, Galeri Caernarfon, Hafod Eryri-Snowden Summit Building, the Millenium Stadium and Senedd, the National Assembly for Wales. It's just as well that the reception area in this building is not the main chamber. Its ceiling and tree-like funnel would have most MPs gazing heavenwards most of the time, I'm sure.
One thing which we find disconcerting about travelling by car in Wales is that as you get further and further into the country the road signs feature Welsh on the top with English underneath. Welsh seems to take a lot more and longer words to say things than English. But there is no way I can train my eyes to start reading the sign from the middle.  I'm sure there's a word for this.
And there are in spring or autumn 47 different shades of green to be seen in the vegetation of the Conwy valley. When you're sick of exploring Welsh castles you can drink in the green of the valley.
Even when we're travelling there are plenty of people working hard at Metalier while we're not there. So contact them or complete the form below to chat about metal or anything else on your mind.
---
Contact Your Regional Metalier Partner