Dubai Architecture in 2015
How to describe Dubai architecture? Extravagant, amazing, over-awing, or just plain nuts?
One blog certainly thinks it's gone crazy. At one stage it had 15-25% of all the world's cranes. The Dubai Waterfront will be the largest waterfront development in the world. There is an island in the sea that looks like a palm tree. Apparently you'll be able to see it from the moon.  And then there is to be the World Islands – 300 artificially created islands in the shape of the world. And in 1990 it was a desert town.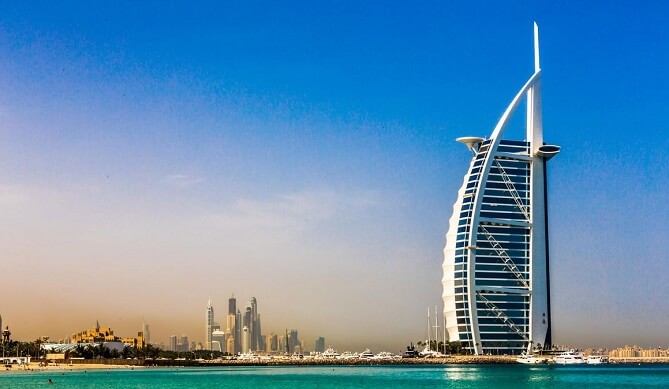 The Burj al Arab is the crowning glory of Dubai Architecture
The Burj has always fascinated. Is it the sail shape, its own little island, that it was built by a NZ company, the helicopter landing pad where Agassi and Federer played tennis in 2005 or the fact that it's so private? There is no such thing as tourists in shorts and sandshoes wandering in to have a bit of a look around. Mere mortals like us have to have a ticket and the cheapest way of getting access is to book drinks at the Skyview Bar on the 27th floor. The minimum spend on drinks is AED 350 per person which is about 95USD right now. Afternoon tea will set you back AED 620 per person (USD 168.79) but I bet the cucumber sandwiches are jolly nice.
In 2005 (pre the tennis match) we were passing through Dubai and were able to acquire tickets to cocktails at the Skyview. Everything about the visit was amazing – from being checked out by the guards on the hotel causeway, to our first glimpse of the massive foyer and atrium, to the amazing drinks and the mesmerizing view of the gulf.
The amount of gilt was eyewatering
The décor was Dubai architecture at its best. The gilt was everywhere and the accountant with us was driven crazy by trying to calculate what it would cost them to change out their gilt for Metalier Classic Gold for example.
In 2015 when I wrote this blog and now in 2018 it is still one of my BHAGs to stay there. Not the 2015 visit which was a fleeting one. But next time!
If you'd like to talk to us about your stay at the Burj or how you can exchange your gilt for Metalier contact us here or fill in the form below.
---
Contact Your Regional Metalier Partner