International Awesome Distributors
This week is going to be an unashamed rave about Metalier's awesome distributors.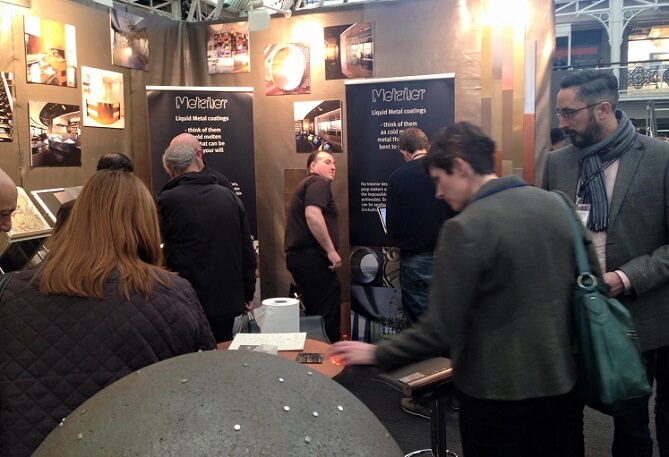 First Brunei
Mettech Design Solution our awesome distributors in Brunei Darussalam posted on Facebook photographs of great work they have done on glass.  Yes glass is a suitable substrate for Metalier Liquid Metal Coatings.
Then Russia
Andrew of Prime Décor in Yekaterinberg our awesome distributor in the Russian Federation proudly posted pictures of his first Metalier commission.  He has every right to be proud.  His work is beautiful and the design fantastic.  Andrew is the newest member of the Metalier team and we're very proud to have him on board.
And then we have the UK
Craig & Ali & Steve of Granlyn Specialist Coatings, our awesome distributors in the UK and Ireland and our European Hub, have excelled themselves again at the Surface Design Show in London.  The show has just finished today and they have had 620 visitors to their stand in under 2 and a half days.  Once again they were the star of the show.   We love the iron ball in the forefront of the picture on this page.  The little dots are magnets. They had 4 different visitors say that their stand was the most innovating and interesting in the whole show.  And we can understand why.  We expect they might be a mite exhausted by now!
There has to be a reason
There has to be a reason why so many people in such different parts of the world have become such awesome distributors.  And the reason is quite simple – Metalier Liquid Metal Coatings are easy to work with and allow you to release your creativity and produce beautiful work that you couldn't produce any other way.
If you think you would like to be part of the team but are hesitating – then don't.  Contact us by email or telephone or fill in the form below.  To see more pictures of the work we're bragging about,  like us on Facebook  and keep up to date with the Metalier world.
---
Contact Your Regional Metalier Partner