Metalier is a versatile contribution to metal kitchen design
Metalier's liquid metal has featured as a significant component in many metal kitchen design ideas.
A specially-created silver effect was used in a kitchen and also the kitchen/bar of a prominent Auckland legal firm's senior partners' common room.
Metalier's liquid metal rust has been used to great effect on glass in a private kitchen design.  Canyon (smoky bronze) has featured as a rangehood cover in another.
Metalier's liquid metal in black waxed aluminium the featured image was specified in the metal kitchen design for Hallensteins.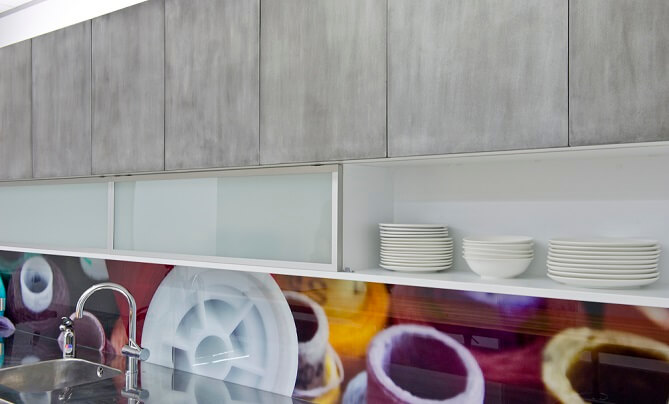 Metal Kitchen Design with Metalier can be flamboyant or discrete
Whether your muse takes you to minimal and sleek or bold vibrant colour and patterns Metalier allows you to realise your unique metal kitchen design.  And on occasions you can be sleek and flamboyant – the Hallensteins' kitchen is a great example of this.  Sleek, sophisticated and moody black waxed aluminium teams with a riot of colour in the splash-back tiles.
Metalier finishes can be riotous too
Think vivid green or black patina on iron or copper.  Think pearlescent tones on copper, mountain gold and brass.  Think our 4 varieties of rust.  Think metal combinations and also think Lace.  We've just acquired a new lace which features beautiful roses.  It's called Diana, no doubt after Princess Di.
This is lovely as one metal in two "depths".  But it will be spectacular in two different metals.
We are feeling very pleased to be working with Mal Corboy at the moment.  Mal Corboy is an international award-winning kitchen designer.  He does bathrooms too but is most known for his kitchens.  Mal's kitchens are adventurous and eye-catching.  We love working with him because his ideas are so original.
To get your kitchen ideas into reality contact Metalier here to see what the options are.  They are actually unlimited.  Or fill in the contact form below.
---
Contact Your Regional Metalier Partner