Modern Architecture in London
One of the things about London I love most is the way that its exciting modern architecture sits so well with the many beautiful heritage buildings there. And I am doubly excited because shortly I'll be in London.  We stay with family close to Alexandra Palace (Ally Pally) which has a panoramic view across London.
I have just found that Insider London offers tours of the modern architecture of the City on a Sunday afternoon. It takes 3 hours and costs 40 pounds.  The Insider describes London's modern architecture as being like "marmite for the eyes – you either love it or hate it".  It goes on to say that no matter what you think of it you certainly can't help noticing it.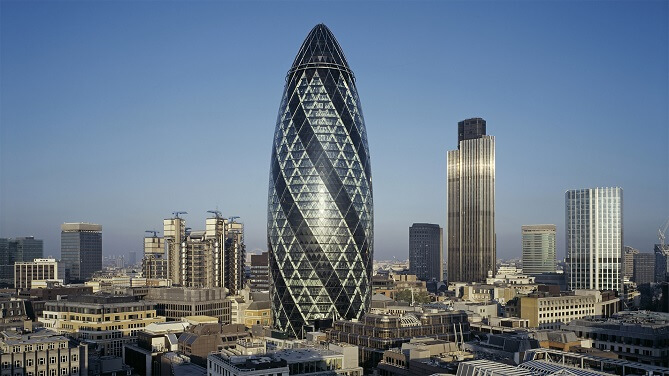 The buildings have quirky names
Only in London would you have a building called The Gherkin". At 30 St Mary's Ave "The Gherkin" is modern architecture design by award winning architect, Sir Norman Foster.
And then there's The Shard, a dynamic and architecturally striking vertical city incorporating, retail, offices, a hotel, apartments, restaurants and a public viewing gallery.
The Inside-Out Building
The Lloyd's building, sometimes called the Inside-Out building is a leading example of radical modern architecture known as "Bowellism".  The services for the building, like ducts and lifts, are on the outside of the building to maximise space in the interior. Bowellism is a very "English" term for the style.   They say it how it is in Britain!
This building received a Grade I listing in 2011. This was only 25 years after it was completed in 1986.  Historic England says it is "universally recognised as one of the key buildings of the modern epoch".
It is our opinion that buildings should be of their age – without development we would not have such wonderful architecture as the art deco city of Napier.
We're always keen to hear your views and to see whether Metalier can assist you to realise your ideas. Contact us here or complete the form below.
---
Contact Your Regional Metalier Partner