Brass Hardware has come of age | Metalier Liquid Metal
Brass Hardware is now modern and sophisticated, like the shelves at The Sugar Club above.  It's quite unlike the 1980s look and feel.  Brass took a bit of a knock when aluminium hardware flooded the market with cheaper imports from China.  Aluminium also suited the minimalist age.  While minimalism still has its devotees, including us, there are times when a little more is required.  And if we are really honest, we're less minimalist than we used to be.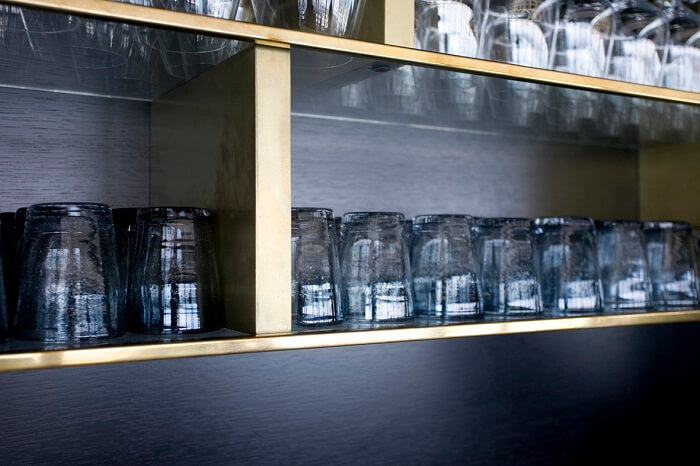 Metalier Liquid Metal transforms aluminium hardware into copper or brass
While there is always a time and place for traditional brass hardware made of the solid metal, Metalier offers a very cost-effective solution to having your hardware cake and eating it too.  Both brass and copper, and also our mountain gold have been used in white kitchens to great effect.  These warm colours warm up the kitchen.  They look stunning, too, against black.
Metalier can change your cost-effective aluminium fittings into the metal of your dreams.  You can co-ordinate the accessories throughout your home or office or retail outlet.  Just think – taps, door handles, hinges, shelves, cupboard handles, push plates, kick plates and light switches can all be customized and unique to you.  It's great to have alternatives that don't break the bank.
And just think of the metal options you have with Metalier – the "obvious" ones like brass, bronze, copper and mountain gold and the less obvious ones such as rose gold, blush aluminium, smoky bronze and gunmetal bronze.  We're also about to launch another lot of metals too – zinc, nickel silver, black copper, pewter and chocolate bronze.
If you would like to talk to us more about getting your hardware coated or to be kept informed about our new metal releases, contact us here or fill out the contact form below.  We love hearing from you.
---
Contact Your Regional Metalier Partner