Brass Liquid Metal in a Heritage Hotel
Metalier's Brass Liquid Metal features in a bar in a stunning fit-out by House & Hotel Interiors of The Leicester Grand Hotel.  The hotel, which has a Grade II listing, has been transformed by designers Helen Hopper and Emma Kewley from a franchise Hotel into a "unique and luxurious destination full of personality".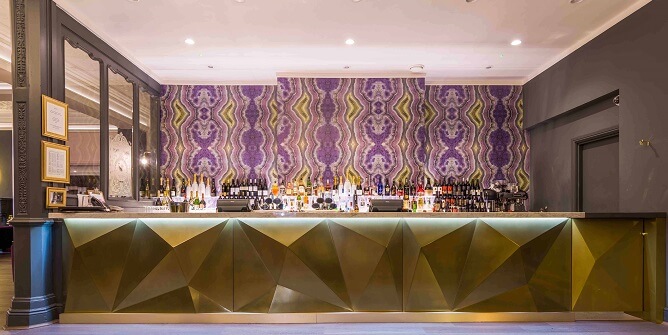 Metalier brass liquid metal finish – traditional yet contemporary
The designers wanted to use traditional finishes such as polished brass and to honour the history and heritage of the building.  Metalier's brass liquid metal enabled the introduction of traditional finishes in a modern way.  The brass liquid metal was applied to a polygonal bar front which is finished with a marble top.  The angles on the front of the bar are enhanced with shadows and light on the surface.  The design is so inviting that it's not difficult to imagine sitting at the bar and choosing from the wonderful array of tempting drinks.
Brass liquid metal finish fitted the budget
The designers say that the success of the project was due to contract UK suppliers, such as Metalier.  It was their ability to provide solutions that made the design work.  Emma Kewley sums it up this way: "working with suppliers like Metalier who can produce innovative surface finishes and apply them to bespoke joinery enables us to achieve a boutique feel to the hotel design, but all the time keeping within the budget".
We look forward to working more with House and Hotel whose mission is to bring the personal touch to hotels and the bespoke to private houses, without the luxury price tag.
You can visit their website and you can visit Metalier's UK distributors and European hub or you can contact us at HQ by completing the form below.
The Leicester Grand Hotel is owned by Jupiter Hotels.  The amazing photographs were taken by Gary Woodford.
Email us for more information or complete the form below.
---
Contact Your Regional Metalier Partner