Metal textures are featured in the entrance ways to Auckland Council's Administration Building
---
Metalier's commission to re-clad the posts and lintels of Auckland Council's Administration Building was a showcase for our metal textures.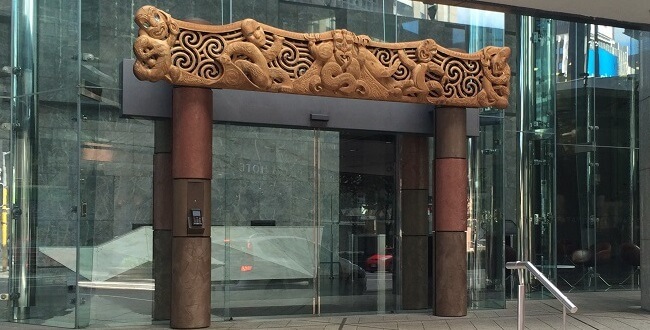 Three metals and four metal textures were used in the composition
---
The metals are copper in the texture we call "Muse".  Bronze features in two metal textures, one called "Imagine" and the other "Papyrus".  Papyrus is created using sheets of paper – hence its name.  There is also a bronze raw finish which is an off- the- gun smooth finish with an interesting fleck through it.
The lintels are in our gunmetal grey bronze which we call Ravine.  This is in a very light texture and was rolled on site.
Metal textures are mostly created using our HP solvent binder
The lintels provided a challenge.  They couldn't be taken out of the building but the architects Creative Spaces wanted to have a textured look.  It couldn't be completed using the solvent binder, however, because there were people working in the building while the work was going on.  We solved the problem, however, and created a very light rolled finish which we could roll on site.  The posts were totally re-clad and the work done in our workshop.
Metal textures offer creative and design opportunities
Creative Spaces are to be congratulated on the design for the entryway and for integrating the choice of metals with the Maori lintel.  In its previous life the building had housed a bank.  The posts and lintels were a very yellow brass (not Metalier) which was so associated with the bank's branding that it couldn't remain.  The design solution by Creative Spaces acknowledges the partnership with Maori which is an essential part of all things in Aotearoa|New Zealand.
To inspire your muse check out the metals on our website and contact us for more information and to get your Metalier metal textures.
---
Contact Your Regional Metalier Partner