Brass polish a keynote in Auckland Apartment
Metalier coatings in a brass polish has been used to great effect on cabinetry in the lounge area of an Auckland apartment. The designer of this stunning fitout is Auckland-based designer Lauren Hare of Hare Interiors Ltd. The images are by David Straight.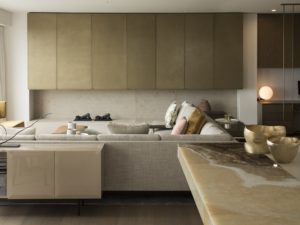 Brass polish is 95% metal
Metalier Coatings are a composite of real metal powder and a binder. When sanded and polished the coating is 95% metal which makes it extremely durable. It also shines to a very high polish. Because of the composite nature of the product, however, there is an element of moodiness in it, even with a high polish.  This adds movement depth and interest to the end product.
The Metalier feature provides a focus
This quality of the finished product is demonstrated by its use in this residential interior and provides a focus for the other elements of the room. The brass, gold, pink and oatmeal, together with the little floral hint in two of the cushions, add up to an interior we're proud to be a part of.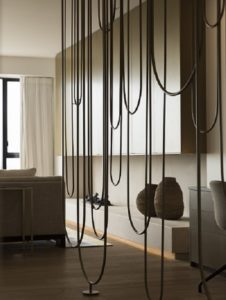 We happen to know that there is a glorious view out the window on the left of the image. The subtleties and warmth of the décor allow a balance between the inside and the outdoors.
Lauren is a regular user of Metalier Coatings and we enjoy working with her. She prides herself on intimate detailing and a mastery of form, scale and sensitivity to materiality.  We know that any project from Hare will be exciting and interesting to work on and one that we will be proud to have in our portfolio.
For enquiries contact the Metalier partner closest to you:
HQ in Aotearoa New Zealand
Or you could complete the form below:
---
Contact Your Regional Metalier Partner