Why Liquid Metal?
Why liquid metal is a question that is frequently asked when people are first introduced to Metalier liquid metal coatings.
So what is the answer and why liquid metal from Metalier?
Open the door and come on in and find out.
First – Metalier transforms mundane substrates into spectacular sumptuous metal.
Metalier liquid metal can be applied to almost any substrate – in fact all substrates that can be roughened or "keyed" for good adhesion.
That only rules out waxed surfaces and people!  The people won't stand still while being sanded.   All jokes aside, did you know coating the girl in gold in the James Bond Goldfinger film would not have been fatal?  Oh well, it was only in the movies.
Second – it is light.
It is easier to install a Metalier-coated piece of MDF than a sheet of metal.  Less bracing is required.  Sometimes it is the only way you can achieve a metal finish – in yachts and airplanes for example.
One of our clients told us they rued the day they chose sheet metal over Metalier.  The workmen dropped the heavy panels and gouged the concrete floor.
Third – it is seamless.
The limitations of sheet metal just simply don't exist.  No more joins where you don't want joins.
Provided you keep a wet edge you can keep on applying Metalier until you have run out of wall, or roof or it's time for lunch.  A little secret – if you want to coat a dome, you need two sprayers who start together and then meet round the other side.  That means they each have a wet edge when they meet.
Fourth – it is cold
Metalier is a cold process, so delicate substrates are not damaged.  It can be applied to almost anything from paper to fibreglass, polystyrene, latex and stone.
Being able to coat unusual substrates such as polystyrene and latex means that Metalier liquid metal is a boon for the film and larp industries.
There is hardly a more cost-effective substrate than MDF.  Metalier simply transforms this humble builders'  "go-to" material into glamorous, lustrous metal.
Fifth – it isn't limited to flat surfaces.
It goes round curves – both concave and convex.  Even complex designs in almost any configuration can be coated with Metalier metals.
It's quite frankly expensive to mould or curve sheet metal and statues and other complex designs, in the absence of liquid metal, need to be cast.  There is no practical alternative for complicated pieces like the Dr Gloom statue which we coated on polystyrene.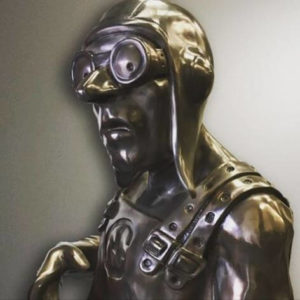 Liquid metal also goes round corners.  It is easy to apply a liquid metal coating to a cupboard door, for example.  The edges can all be coated at the same time as the front face for a seamless look.  If the door was clad in sheet metal the edges would have to be cut and applied separately.  More time and more expense.
Sixth – it is easier to cut than sheet metal.
Cutting though sheet metal requires more robust tooling than cutting through MDF or other substrates which have metal coating of under 1mm.
Seventh – it is available in many more metals and colourways than sheet metal.
Currently Metalier has 14 metals available – aluminium, iron, gold brass, green brass, bronze, chocolate bronze, smoky bronze, gunmetal bronze, salmon copper, dark copper, dusky copper, black copper and nickel silver.  We are currently testing zinc and white bronze.
In addition to the metals above manufactured at source we can mix powders together to create aluminium blush, champagne gold, classic gold, rich gold, rose gold and gunmetal silver.
Metalier metals can be custom mixed to clients' specifications.  The champagne gold for Harrods of Knightsbridge, London was created to a client's exact colour specification.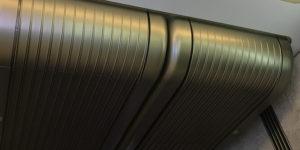 Eighth – it can be textured, patinated and waxed.
An infinite variety of textures can be created using Metalier's solvent system and proprietary thickener.  They can be fine or heavy.  They can be created using ordinary household implements such as spatulas, rollers and even paper.
And then there is patination.  Metalier produces 3 different patinas which allow the creation of a myriad of different effects.  There is rust, of course, and also pearlescent effects, aging and Verdigris.
Black waxes will also create different effects, particularly on aluminium and the lighter metals.
Metalier finishes are boutique and hand-crafted so no two finishes will ever look the same and no two applicators will produce identical work.  That is one of the beauties of the product and is compelling for architects and designers who are always pushing design barriers.  It is also important for clients looking for the individual and unique.
Ninth – it is cost-effective.
Not only will the metal itself be cost effective, but you will save money on cutting, installing and bracing.
Tenth – It is environmentally friendly.
It is important for us all at Metalier to tread lightly on the earth.  Our coatings are so fine that they use a fraction of the planet's resources when compared to sheet or foundry metal.
And why liquid metal from Metalier?
There is actually an eleventh reason to choose Metalier and that is our proprietary Metal Clear Coat.  This product is nano-based and very fine.  A very light spray of clear coat will stop the metal oxidizing and still allow the lustre of the metal to shine through.  This is exclusive to Metalier and Metalier distributors and applicators.  As our distributor in UK and Europe, Craig McDonald of Granlyn Specialist Coatings says "There is nothing like it on the market in the UK or Europe."  We know!
But don't take our word why liquid metal. Here is what our customers say:
David Ponting : Architectural Designer
"This is metal as art".
Chris Norris: Brand Partners
"I just want to say it looks amazing and it isn't until we turn it over can we tell that the surface is actually acrylic, not steel."
Libby Priscott
"Metalier is a revelation and I am telling all my friends about it."
Glenda Ray
"The door is in place and looks brilliant and we have had comments from a couple of tradespeople about how different it is."
Felicia Wan: Creative Spaces
"Thanks for all your help this year.  The project looks fantastic".
Shane George: Kitchens by Design
"I love working with your product".
Join the party – get in touch now.
Contact our hubs in UK, USA, India or here at HQ.
Or complete the form below.
---
Contact Your Regional Metalier Partner