Kitchen design with metal
Being involved with kitchen design is one of our favourite things. It's a real treat to see the wonderful and innovative designs that usually first cross our paths as quote requests, then get into the workshop and finally are realised in the client's home.
In 2019 we worked on a fabulous kitchen design in a finish we have named water-aged brass. The brass was a real feature in the kitchen teamed with a stone bench and splash back.  Although there was a professional designer involved in this rebuild, the client was very design-conscious herself and had strong ideas. Because of this she was a regular visitor to the Metalier showroom. It was a real buzz to work with her as we discussed the many options we could offer.  The picture below is of the finished design. It looks stunning and our client is thrilled.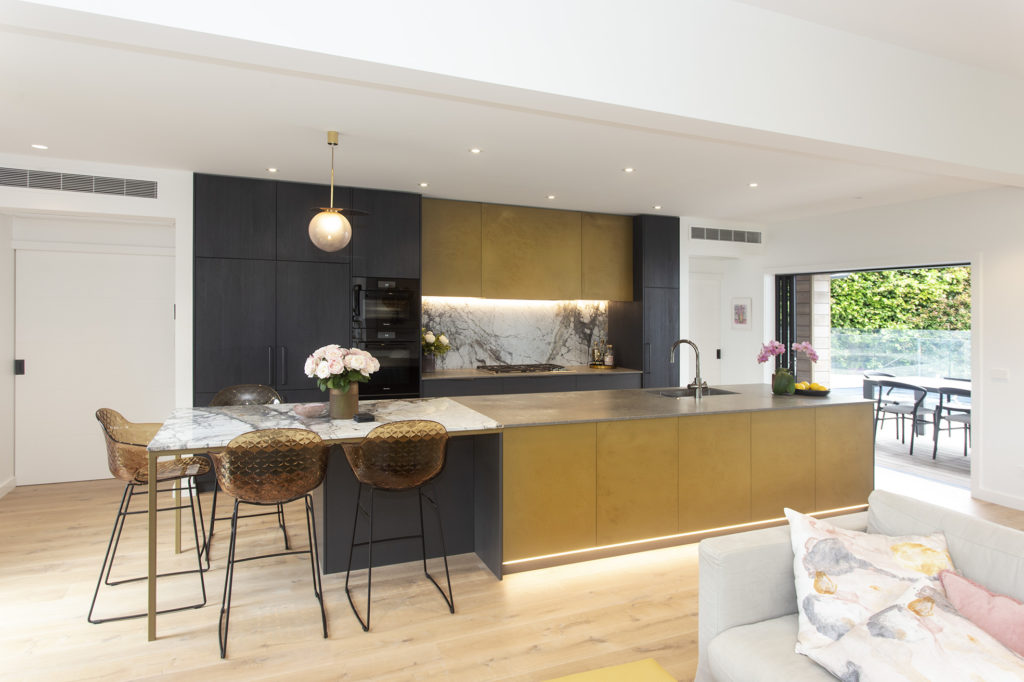 It goes without saying that she "gets" Metalier and was as keen to use as much of it as she could. As well as the kitchen we coated the statement front door in our brass moonrock finish plus two bathrooms in gunmetal bronze and another in rose pink.
Water-aged brass
Water-aged brass is a new finish that our talented team developed. Without giving away all our secrets we can confirm that water was indeed a feature of the patina application. And in this case it was our Patina M16. A close-up of the finish is pictured below.
You may well ask why the colours of the two finishes look different. They are both brass and they are both patinated in the same way. Metal, however, whether sheet or our real metal coatings are notoriously difficult to photograph. The light plays tricks. The best way to see Metalier in the flesh, so to speak, is to request a sample.
Please contact Metalier through our hubs listed below or complete the enquiry form. And check out our other brass finishes here
---
Contact Your Regional Metalier Partner