Remarkable Surfaces is Metalier's partner in Christchurch
Remarkable Surfaces are based in Christchurch in the South Island of New Zealand. It was important for Metalier to have a base in the South Island because the country is long and lean – it is not called Aotearoa "Land of the Long White Cloud" for nothing. Transporting finished product, particularly over the Cook Strait, was also a mental, if not an actual, barrier. So when we got a "hello" email from Suzanne, it looked like it could be a good fit. And so it is.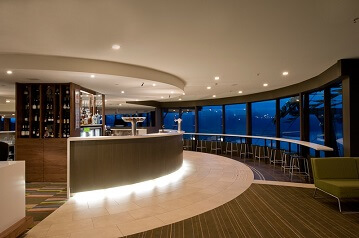 Behind Remarkable Surfaces is the wife and husband team (said that way on purpose) Suzanne and Wayne McInnes.  Behind that again was the well-known and respected Christchurch firm of Tube Fab. Tube Fab is a light-engineering company. It manufactures high-quality steel shop fittings, shelving and tables. It is well-known and respected in the South Island. We couldn't have asked for better partners. And we love their new website.
Since joining us, the Metalier side of the business has grown so much that Suzanne and Wayne have sold Tube Fab to concentrate on Metalier. We're thrilled that they are doing so well.
Before Remarkable Surfaces became part of the team, Metalier in Auckland received two important commissions from architects, Warren & Mahoney. Warren & Mahoney have their origins in Christchurch.  One commission was for the Skyline Bar in Queenstown. Pictured above, it was completed in 2008. The finish was a bespoke silver created especially for the job. We were there earlier in the year. It still looks fabulous.
The second commission was for what I would describe as a belvedere in the Christchurch casino. The finish was patinated brass. Christchurch has been beleaguered by earthquakes since September 2010 but we're told that the belvedere survived and still looks great.
Suzanne and Wayne have begun their Metalier careers with significant projects – black copper tables for a restaurant and copper panels for Vodafone. The service you will receive from Suzanne and her team is professional and friendly and comes with a big dollop of humour which sits nicely with us – if you haven't placed the PO yet or chosen the finish you can't expect us to have done the job yesterday.
Contact Suzanne at Remarkable Surfaces or complete the form below to get your South Island work underway.
---
Contact Your Regional Metalier Partner