Metal as art is a term coined by David Ponting
"Metal as art" as a description of Metalier Coatings was first coined by Auckland designer and architectural creator David Ponting. David's work is characterised by generous volume and exquisite material composition. He also specialises in statement front doors. We have been privileged to work with him.
Alex Bartleet art is featured in the showroom at HQ
Metal as art as a concept has also been in our minds as we set up the new showroom at Metalier Headquarters in Auckland, New Zealand. Some years ago, we worked with Alex Bartleet, a young artist.  Alex specialises in creating collages of objects that are often overlooked or degraded. By arranging them and coating them Alex makes them visible again. He turns the mundane into the extraordinary. Rather what Metalier does as well.
In our project with Alex he collected and mounted the various items for his works. Metalier then sprayed them with the metals Alex chose. Alex finished each work by hand with magnificent and financially beneficial results. We have one of Alex's works in our collection. And we have at last been able to display it appropriately. It looks magnificent in our showroom as the picture below attests.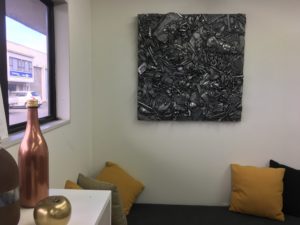 Metalier finishes are a form of art
Metalier finishes are truly an art form whether they are smooth and polished or more intricate and textured. The wide variety of metals available and the possibility to mix them in various ratios allows an almost limited colour range.
Each finish is hand-crafted and every craftsperson, whether they are in New Zealand or any of our partner countries overseas, will bring their own touch to the task. Add to this the variety created by the Metalier patinas and every client's work will be unique. Metalier finishes are truly bespoke.
Our showroom is full of tempting creations that will inspire both designers and end-users. It is well worth visiting. And if you are not in New Zealand please contact one of our partners to view their displays.
---
Contact Your Regional Metalier Partner