We're expanding our decorative metal design
Expanding our decorative metal design reach through product design is one of the most exciting things we do. We love collaborating with designers to create ranges showcasing their skills and ideas using our finishes. The results have been stunning and very successful.
We've worked on beautiful light fittings, mirror frames, wall panelling and furniture. Our header image is of the sideboard called "Galaxy" and it is by David Shaw Furniture, a prestigious New Zealand company that designs its own range as well as importing exclusive international brands. It is fitting that this piece is called "Galaxy" as the finish Metalier created was independently called "Nebula". We were thinking along the same lines!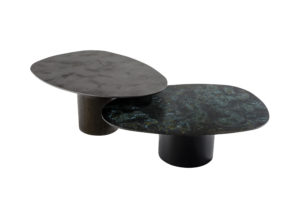 The picture left is of the really cute "Otis" tables in the same range. The top of the table on the left is Metalier's lightly-aged iron. The one on the right is the Nebula finish. We love the way the tables are slightly "wonky". This adds to their charm. Of course, if, for some reason Nebula doesn't appeal there are plenty of other options to choose from, including the ones we haven't thought of yet.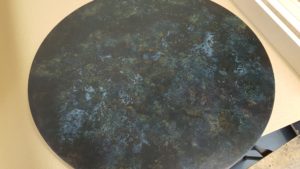 And here is a close up of beautiful nebula. We love the blue tones. The pattern and tones are created using patinas. Patinas are a key part of our creative process and you can read more about them here.
Right now we're working on light fittings and mirror frames and new panelling designs.
One of the exciting things for designers and their customers is that Metalier is a totally bespoke finish. No two pieces, even if created on the same day by the same person will look exactly the same. Add the variations of different days, different heat and different humidity and the variations can be even more dramatic. The result is that each piece is unique and the lucky end owner will know that no-one else has the same as they do.
Get in touch and tell us which way your design muse is leading you.
Let's talk about how can we bring to life your ideas and collaborate with you on something beautiful.
---
Contact Your Regional Metalier Partner