Dark Copper is the new copper colour from Metalier
We named the new copper from Metalier "dark copper".  When you compare it to Metalier's original copper the difference is immediately noticeable and dramatic.  The larger pile of powder on the left of the picture below is Metalier's original copper colour.  The smaller pile on the right is dark copper.  We've named the original copper salmon copper.  It is a salmon pink colour – hence the name.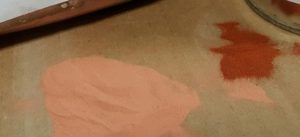 The addition of the new copper to the range gives Metalier an additional colour.  It also allows our applicators  to create a new range of "hybrids" – metal colours that can be mixed on the spot by combining two or more of the standard metal colours we offer.  Think of rose gold, rich gold, aluminium blush and rose aluminium.  Copper features as a component in each of these hybrids.
The gorgeous dark copper bowl featured was created by one of our newest distributors, Abel & Glen of Sydney, Australia.  Abel & Glen are tasked with taking Metalier across the ditch from New Zealand.  We're very pleased to have them in the Metalier team and even more pleased when they turn out work like this bowl.  We'll tell you more about them shortly – we've asked them what they'd like us to say about them.  So far they've been a bit coy!  In the meantime, if you're in Australia and you'd like a copper bowl or something else then you can contact Abel and Glen here or complete the form below and we'll put you in touch with each other.
Contact details for our hubs are below:
For UK and Europe click here;
For North America click here;
For India and MENA click here
For HQ, NZ click here or complete the form.
---
Contact Your Regional Metalier Partner