Liquid Metal Signs tick all the Metalier Boxes
Liquid Metal signs are one of the best ways to use all the design possibilities of Metalier Coatings.  Also using Metalier Coatings for signage means you reap all the benefits that Metalier offers – not just for signwriters but for all Metalier specifiers.
Look at this list:
First:  there is the huge number of metals and metal colour combinations that allow talented sign-writers' design muses to run wild.  You can match a metal to a customer's brand colours or think up a whole new metal colour by mixing and playing with the basic metal range.
Second:  you can texture, patina and rust signs for a unique and different look.
Third:  Metalier liquid metal signs can be a fraction of the weight of the same sign in sheet or solid metal.  Suitable substrates include acrylic and plastic.  A light-weight sign means less stress on a building, less bracing and it's a whole heap easier to install too.
Fourth:  Metalier liquid metal goes round curves – think rounded lettering and graphic designs.  There is just no limit to what you can do.
Fifth:  Metalier liquid metal follows the indentations of the substrate.  This means that you can router a logo in a reception desk, for example.  The face of your business is this subtly reflected and reinforced.  Create a wall of logos in a reception area.  You can cut a design into the substrate or have it standing proud.
Sixth:  Metalier liquid metal signs are cost-effective.  It is much quicker, easier and cheaper to cut a sign from plastic or acrylic than it is to cut one from sheet metal.
It's not only sign-writers who can benefit from the signage possibilities offered by Metalier Coatings.  Architects and designers can incorporate the design features of this flexible form of signage into the very heart of their designs.  We can help you win awards too.  This rust sign won a Signage award in New Zealand.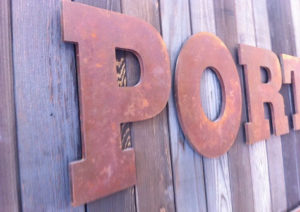 We'd love to help you create beautiful signs.  Contact us:
Or complete the form below
---
Contact Your Regional Metalier Partner