Metalier Bronze bowls were created by a design student 
The bronze bowls created by design student, Shiri, resulted from her exploration of how traditional processes and materials could be complemented and extended using contemporary approaches – the best of the old alongside the best of the new.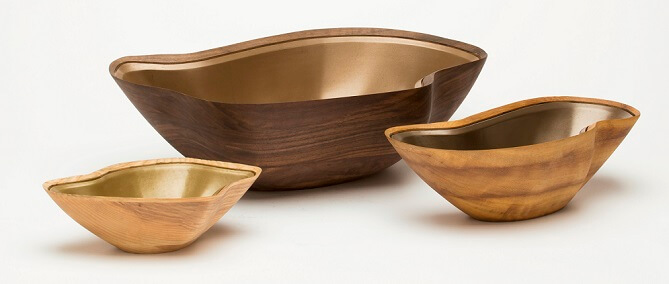 The bronze bowls project were part of the second year Industrial Design and Innovation programme at AUT, Auckland. This programme is supported by Rebecca Dowie of Douglas and Bec. This company has been producing furniture and lighting since 2006. It has a particular focus on creators with an artisanal ethos who produce thoughtful, innovative work…an ideal fit for an AUT Studio project!
To create the bronze bowls Shiri used the precision that CNC cutting can achieve to form 'nesting' wooden forms. Her original plan had been to use cast bronze linings to her wooden bowls, but the cost to prepare and finish these, along with the weight led her to look for alternatives. Metalier cold sprayed bronze allowed her to successfully meet both practical and aesthetic objectives; the CNC lining was an exact fit to the inside of the wooden bowl, something that would have been far more difficult to achieve had it been done in conventional ways.
Michael Smythe in his recent book describes New Zealand Design as 'neither opulent nor sterile. It is accomplished with a light touch rather than a heavy hand. It delights in who it's for and how it's made. It is direct and to the point, and it doesn't take itself too seriously. It offers no 'bullshit' honesty with a twinkle in its eye…" Students were asked design more or less anything within the gamut of domestic ware, but to purposefully set about acknowledging these characteristics in their work.
An intelligent marriage of materials, sensitive use of form and materials in an unconventionally conventional bowl….a good example of Kiwi design?
Talk to us to see how we can help the twinkle in your eye. Contact us here or complete the form below.
---
Contact Your Regional Metalier Partner