Evoque copper lace table
The copper lace table featured is the result of a design collaboration between Amanda Neill of Designworx and Metalier Coatings.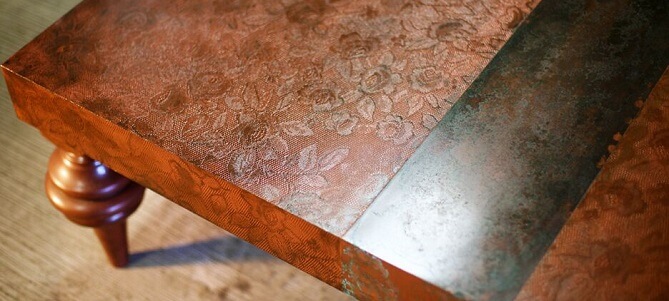 This copper lace table is the first piece in a line of tables Amanda has created as a collection. The design is typical of Amanda's work – it is striking, it is "out there", it is utterly gorgeous and it is very different. Amanda loves colour, boldness and everything exotic. It is exciting working with her and stretching the capabilities of the Metalier Coatings Amanda chooses to use.
This nostalgic and romantic copper lace table was created using real lace which is applied to the surface of the piece and over the edges. Metalier Coatings are sprayed through the lace to create the pattern. After curing the copper is polished and then patinated. A dark patina was applied to give the pattern an aged look. A green patina was used to create the Verdigris look in the stripe in that runs off centre through the table.
The finishing touch was Metalier's Nano Clear coat which is applied in a very thin but robust layer. The nano clear ensures that the finish doesn't oxidise beyond the desire look and it protects the surface.
The legs of the copper lace table are all hand lathed from solid wood. Each leg is different and each is finished in aged copper.
The copper lace table dimensions are 1000 x 1000 x 450mm.  You can purchase the table through Designworx or by contacting Metalier directly.
Metalier has also competed a hall table in this collection. Three other pieces will be completed in the early part of 2016.
Metalier is always keen to work with designers and creatives to help them to realize their ideas. To contact us either click here or complete the form below.
---
Contact Your Regional Metalier Partner