A liquid metal kitchen is good-looking and practical.
The kitchen is an ideal place to use Metalier liquid metal and some of Metalier's most spectacular work has been completed in kitchens.  The bar at Chapman Tripp lawyers' common room and bar is an example of a liquid metal kitchen which was completed in a specialized silver metal.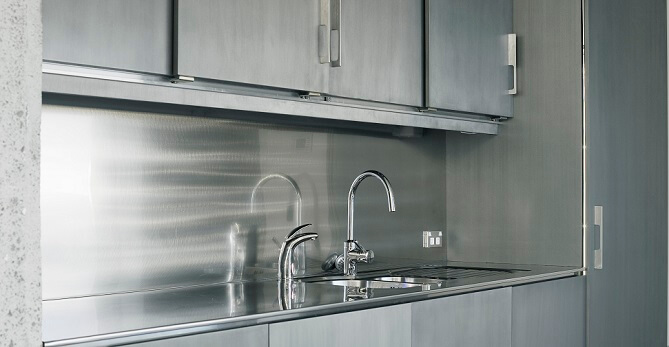 The liquid metal kitchen at The French Café was finished in Metalier Nickel Silver.  The kitchen bar at The Sugar Club in Sky City is in aluminium.  Metalier recently completed a kitchen for designer Mal Corboy in antiqued brass.
A Liquid Metal kitchen by Metalier can be minimalist or it can be lavish, ornate and even outlandish.  The Chapman Tripp kitchen is raw and minimalist – concrete and metal.  It can be an ornate feature such as the aluminium bar at The Sugar Club which stands out, not only because of its faceted face but also because it is surrounded by a sea of brass.
As well as looking good, Metalier liquid metal finishes are practical and hard-wearing when protected by Metalier's Nano Clear Coat.  This clear coat protects the metal from tarnishing and spills are easily wiped away and the surface kept clean.
The Chapman Tripp kitchen also shows how fine the cabinetry detail can be.  The edges of the cupboard doors and drawers are all coated with Metalier liquid metal.  You simply could not achieve such a fine look with sheet metal – it would be too heavy and clunky.
Another important aspect of a Metalier liquid metal kitchen is that it will be unique.  Not only is there an almost unlimited number of finishes that can be achieved, Metalier is hand crafted.  This means that every kitchen will be different.  Most of us want to be different and a handcrafted finish allows people to express their individuality.
Contact us now by email or telephone 09 376 7099 to find out the options of metals and finishes for your liquid metal kitchen or front door, or … just about your metal anything.  Or fill in the form below.
---
Contact Your Regional Metalier Partner