Copper basins and sinks are elegant and beautiful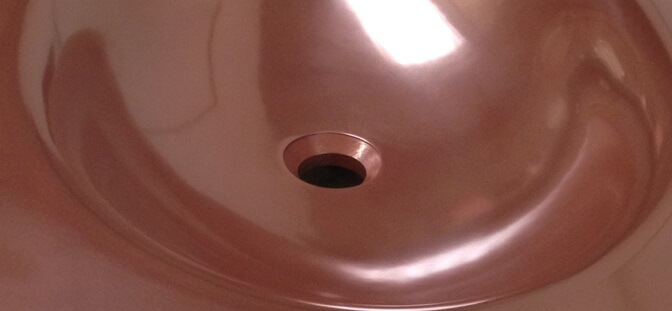 Copper basins and sinks are known for their elegance and beauty.  They make art out of workaday functional must-have essentials.  Copper basins and sinks create rich character and make the mundane into a thing of beauty.  With Metalier copper basins the ordinary and the regular become something that is a pleasure to use.
---
Copper basins have anti-microbial qualities
There is much generally-accepted evidence that copper is naturally anti-microbial.  So the surfaces of copper basins are highly beneficial in the prevention of the spread of bacteria.  Copper is, in fact, the material of choice for frequently touched surfaces where hygiene is of paramount importance.  Think healthcare facilities, rest and retirement homes and hospitals.
Health benefits of copper known since ancient times
The Egyptians used copper to make drinking vessels and water pipes and we bet they had copper basins and sinks as well.  Some had copper bracelets to ward off disease.  Although the ancient Egyptians and Greeks probably didn't realise it, copper is an effective antimicrobial material destroying 99.9% of bacteria within 2 hours of exposure.  Copper basins are a great supplement for other standard infection control practices.
With Metalier copper you can love the planet too
Metalier metal is applied so finely that you use only a small amount of this amazing natural resource.  We can save it for generations to come while enjoying it every day.
The copper first lady has a commercial message
We mean the Statue of Liberty not Michelle Obama!  The statue's recent restoration has confirmed that copper was clearly a good idea 100 years ago.  Now with advances in technology and with the availability of Metalier Liquid Metal, copper is an even better idea today, and copper basins a great way to enjoy copper in your home, office, workplace and health facilities.
The first lady's message is:
Copper for beauty
Copper for warmth
Copper for carefree maintenance
Copper for the ages
Contact us to find out how Metalier can deliver, not only copper basins, but also green copper – in colour and ecologically too.
---
Contact Your Regional Metalier Partner