Entrance doors make statements
About welcome, about meeting, about your home, about you, about your business.  We think they should also tease and intrigue.  They should also make the person who comes to them for the first time interested, curious and, maybe, excited and full of anticipation.  That anticipation might be about seeing friends and having a good time to together or it might be the door of a professional who is going to provide advice or answers.
Metal entrance doors at our project at All Saints Church solved a problem for the church and made a meaningful statement as well.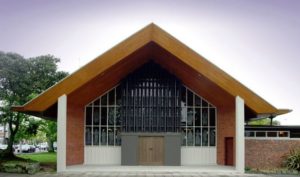 Metalier Liquid Metal makes entrance doors significant
No matter whether we are talking about offices or homes, hotels or shops, the entrance doors are significant.  Metalier liquid metal enables you to make a statement at your entrance way that doesn't have to break the bank either.  You can look like a bank if you want to.  The Barclays Bank door below could be made using Metalier – it would be a fraction of the weight of the original and a fraction of the price.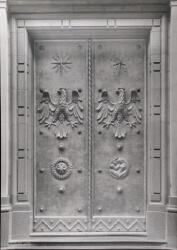 Metalier means no limitation on the possibilities
Whether you want a grand old door or something modern Metalier door designs offer you many options at all levels:
If costs are an issue, there are many cost-effective solutions that will make your metal entrance door design a reality.  We can show you which metals and which finishes produce a fabulous door at a price to make even the bank manager smile.
We can coat one side of the door only with a Metalier finish and paint the interior side.  Sometimes this is the best design solution in any case.
If you want to go crazy we can do that too – just try us.  We have so many options and designs for entrance doors that we can show you.  You'll be spoiled for choice.  But isn't that fun!
---
Contact Your Regional Metalier Partner